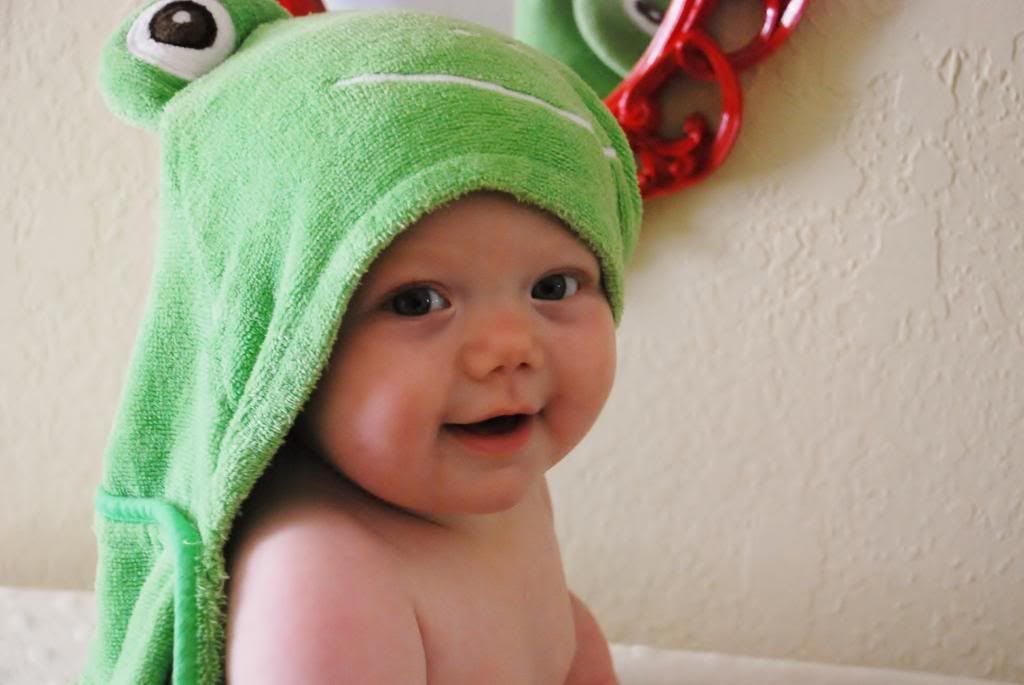 Watching: "Master Chef" on Hulu. We don't have cable, so our selection is limited. All of the shows we like seem to be on hiatus, so we are catching up on the one show that isn't (on hiatus). Gordon Ramsey is so funny to me. He's so sweet on some shows and then totally crazy on others. Rory and I always laugh at the dramatic pauses on this show and how they always try to make it seem like someone is going home, but they really aren't. Such dramatics. "You... are... about to.. walk... up those stairs because you're safe!"
Listening To: The Hippos! Hello first day of summer.

Loving: my days with Logan. I have to be honest and say that the first four months or so were pretty boring. She'd sleep all day, I was feeling huge, it was hard to interact with her. I love her to death and I will cherish those first few months (as miserable as they were), but it's so much easier now. And more fun! She will be seven months next week and we actually play now! She's rolling all around like a crazy bug. She's having screaming conversations with us. She reacts a lot more to toys, us, her surroundings. We go to the park with her daddy for a lunch date every afternoon and we love watching her enjoy her surroundings. She gets so excited about the trees, other kids, the wind.. she's getting to be so fun.
Drinking: strawberry, banana, blueberry smoothies.. every morning! So yummy and Paleo friendly.
Eating: I have been making a really delicious salad for lunch the last few days. Romaine, black olives, chicken, bacon, and my own dressing made of lemon juice and dijon mustard.
Missing: Friendships. I read this post by Danielle a few days ago and it had me crying. It's tough getting older and not having a lot in common with friends you've had forever. When people don't have small kids and you do, it's really hard to maintain those friendships. It seems like people just assume you can't or don't want to do anything so you never get invited anywhere.. you're kind of forgotten about.
Looking Forward To: our mini vacation next weekend! Hotel room is booked! Itinerary is planned! We need this get away.. just the three of us.
How are you? What are you up to lately?
Thank you to Megan for these particular Currently series questions!