You know you love your child more than life itself when you have social anxiety, are terrified of meeting new people, think clowns are the devil and you sign them up for Gymboree anyway!

I got a coupon to preview a class and I had put off going for about a month or so because I was scared of going. I have purple hair and tattoos.. what moms in my neighborhood are going to want to talk to me? Once Logan started crawling, I really had to set aside my own fears of "getting out there". She needs to be somewhere other than her playroom.. she needs room to move.. she needs to see other kids.. and I need to suck it up.

You guys, she had sooo much fun!


I put her on the floor and there was not a moment of hesitation from her. Off she went! She was climbing and crawling and screaming with total excitement. My girl was having the time of her life, discovering new things; and that made me happy.

Some moms were dressed conservatively, some moms were in gym clothes, and some moms had full sleeves of tattoos and one mom even had pink hair! I breathed a big sigh of relief when I saw the mom with the pink hair and even told her so... she said the same thing to me. Even though some moms didn't look like me, they were all welcoming and sweet. What was I so scared of?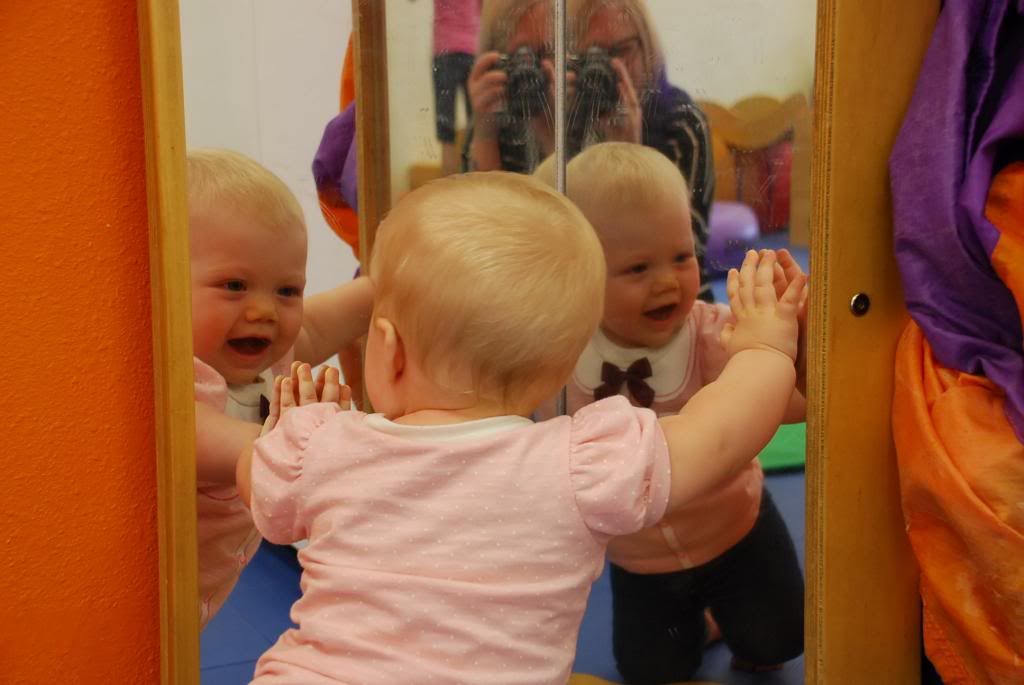 It got me thinking about how I have a tendency to exclude myself from things because of the fear that I will be judged on my appearance. When Rory and I were newly dating, his family was having their yearly Christmas party and I refused to go. I had fire engine red hair, tattoos, piercings.. I was so afraid of what people would think of his new girlfriend that I made an issue out of it and stayed at home. Ridiculous right? I notice myself not participating in things because I'm afraid of stares and negative comments. I don't like going to a gym where I'll be surrounded by people.. when I go walking, I try to stay off of the main streets because I am constantly worried about what people driving by are thinking of me. I bet no one is thinking anything of me. Maybe some people might think my hair is outrageous or my tattoos are unattractive, but why should I care? I shouldn't be preoccupied with the thoughts of others.. I really just need to not live my life in fear of peoples' rejection.
Who knows how I'll get there, but I believe I've taken the first step in participating for Logan's sake. If someone doesn't like me because of how I look, then ok; I don't want judgemental people in my life anyway.. right?
xo
-Ali

*these photos are from when we went to "open gym" as a family.*