When I was pregnant with Logan, I thought I knew what we needed for her. I registered for the "must haves", received most of them at our baby shower, and actually ended up replacing most everything. I thought I'd share some of our essentials with you because I wish I had seen something like this before I registered! These are my favorite things that we started using when she was six months (except for the bottles and formula dispenser which we've been using since she was about two months).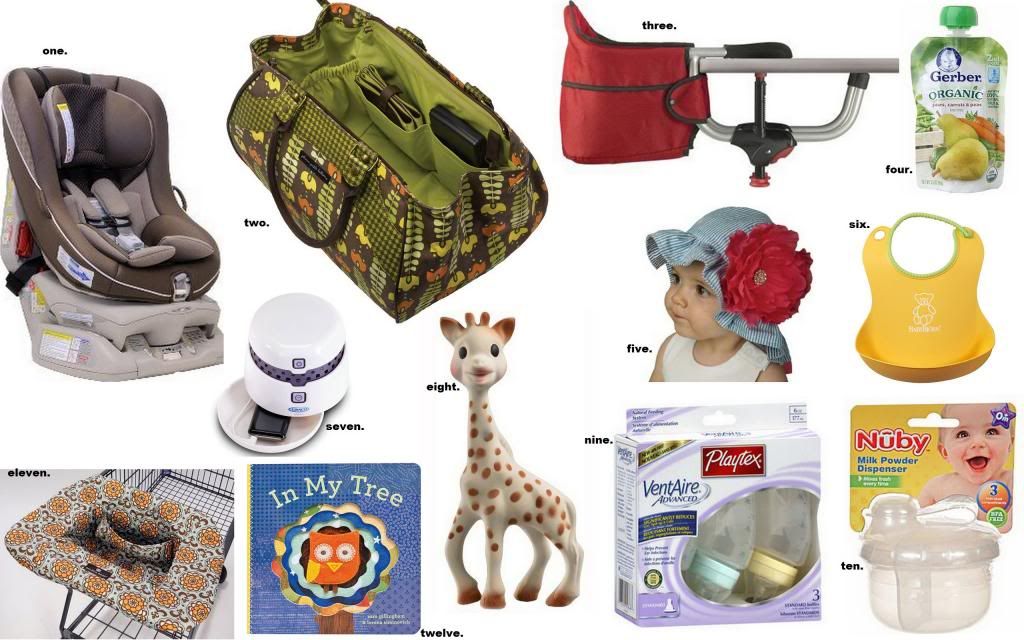 one- Zeus 360 Convertible Car Seat by Combi- I love this car seat so much! I drive a Honda Element which features "suicide" doors. We originally had Logan in a Graco car seat.. one of the typical carry along ones that snaps into a base and into a stroller, and it was quite a task getting her in and out of the car with the way the doors are situated and with how the back seats are very far back. My dad was gracious enough to purchase the Zeus for us, as it was highly recommended by Honda Element owners. Once she got a little bigger and was holding her head up, we switched the the Zeus. It's so easy to get her in an out of. You can use it for a new baby and up to forty pounds, but I would not recommend it for a newborn. It does not have a great recline, so if you're baby isn't holding his or her head up, don't use it. It really is such a great chair though. We call it "The Doom Buggy" because of the way it rotates 360'.. just like the doom buggies in the Haunted Mansion.

two. Petunia Pickle Bottom Wistful Weekender- this is my "Mary Poppins" bag! I got it to replace my PPB Satchel. The Satchel was great for the convenience of being able to wear it as a backpack, but we had to take everything out of it just to find one item. The Satchel will be great for when we are traveling more lightly and Logan doesn't require so much. The Weekender has been great. I can open it right up and see everything I need.. and everything is in it's designated space.
three. Chicco Caddy Hook on High Chair- otherwise known as the "lobster chair". I was hesitant to get this chair because of the way it latches on. It leaves your child dangling at the end of a table, but honestly it's the best chair. It's very sturdy, less than forty dollars, folds down easily, and no worries about all the nasty germs in a restaurant high chair!
four. Gerber Organic Food Pouches- these are so easy to throw into my PPB bag and so easy to feed. I squeeze a little at a time into a spoon for her and it's such an easy cleanup! The pouches tend to be a few cents more than the containers of baby food, but if you catch them on sale, get them!
five. Mud Pie Hat- I hate the big flower.. good news is it's removable! Once it came in the mail I pulled that gaudy sucker off and put it away in a closet never to be seen again. I am not a fan of huge flowers on kids heads... bows, little flower clips.. sure! But not gigantic flowers. This is her every day hat. It fits well, can go in the pool, and gives good coverage for her face and neck.
six. Bjorn Soft Bib- These bibs are the best! So easy to wipe down, and they grow with your baby. I love that the food catching pocket is large and does not move. You see a lot of bibs with pockets these days, but they all are close to the chest... things just roll right over it an onto your baby's lap. The bib is flexible, but not enough to move and squish while it's being worn. When we are out, I love that I can just wipe it off and throw it back into my bag.
seven. Graco Sweet Slumber Sound Machine- this is what helps drown out our crazy neighbors children. It has all sorts of sounds, music, and you can even plug your iPod into it! We just use the white noise and Logan sleeps so peacefully with it on. It also has a nightlight that can be turned on and off with a simple touch. We aren't using it now, but when she gets older and potentially is scared of the dark, it's right there for use!
eight. Vulli Sophie the Giraffe Teether- the most popular giraffe in the land. At twenty dollars, this little sucker is the queen bee of Logan's toys. Sophie is great for her little hands to hold and she chews
Sophie all over her legs and face until kingdom come

. Logan loves laughing at her squeaks and she is so easy to clean!
nine. Playtex Ventaire Bottles- these bottles saved us. Seriously. After an unsuccessful attempt at breastfeeding, we tried all of the bottles that were "just like the breast". Then we found out she had G.E.R and tried all of the reflux bottles. They all sucked. Finally we stumbled upon these and Logan seemed to be cured overnight.. I swear. The downfall is you cannot heat the formula inside of the bottle because of the plastic vent cover inside.. but we just made do by heating her formula in a separate container, then poured it into the bottle... no big deal. They are pretty easy to clean and most of all, they are nice on Logan's tummy.
ten. Nuby Powder Formula Dispenser- upon failed breastfeeding and venturing out with a new baby, I looked into getting one of those expensive bottles that carry water and formula in them.. but separated. I was hesitant because I didn't want to switch her bottles and because of the price. I found these at TjMaxx for two dollars for a pack of two! They are really easy to travel with and use. They also hold four scoops of formula in each compartment.. there are three in each.
eleven. Balboa Baby Shopping Cart Cover- for all of the trips to the market! It actually fits quite well on the huge Costco cart and the oddly rectangular Target cart. It has a little safety belt and loops for toys as well. It also can be folded into a convenient carrying tote, but let's get real mammas.. who has time for that? I ball it up and throw it in the car.. works just fine!
twelve. "In My Tree" Book- Logan loves this book! She's enjoys turning the pages to look at all of the vivid colors and loves grabbing at the owl at each scene. We've named him "Horton" and he's our go to book buddy.There's a whole "In My.." series that I would like to collect for her.

xo
-Ali