Hello October! I've been waiting for you! and hello Friday!
This week was a bit of a challenging one, but it could have been worse. On Monday night as I was making my prosciutto rosemary chicken, I started to feel the onset of a sore throat. I usually don't get sick much these days (I used to be ill all of the time when I was teaching preschool), so I just didn't think anything of it. During the middle of the night it got far worse.. to the point of crying when I had to swallow my own spit. That went away and turned into an excruciating headache, conjestion, and face swelling. I have a history of sinus infections so I knew I was definitely on the verge of getting one. I've been taking Zicam and feeling a little more normal so that's great news because I've got some freelance work to finish up and we are going to be in Santa Barbara this weekend.
I always forget about the trade offs that come with this seasonal change that I adore so much. I am grateful to be cuddling in a blanket and wearing sweaters, but then everyone gets sick as well. I guess nothing in life can be totally perfect.
I kind of threw this months wishlist together partly because I've been busy with other work, but also because I'm not seeing very many things I "have to have" lately. I've searched through all of my favorite sites and only these few things caught my eye.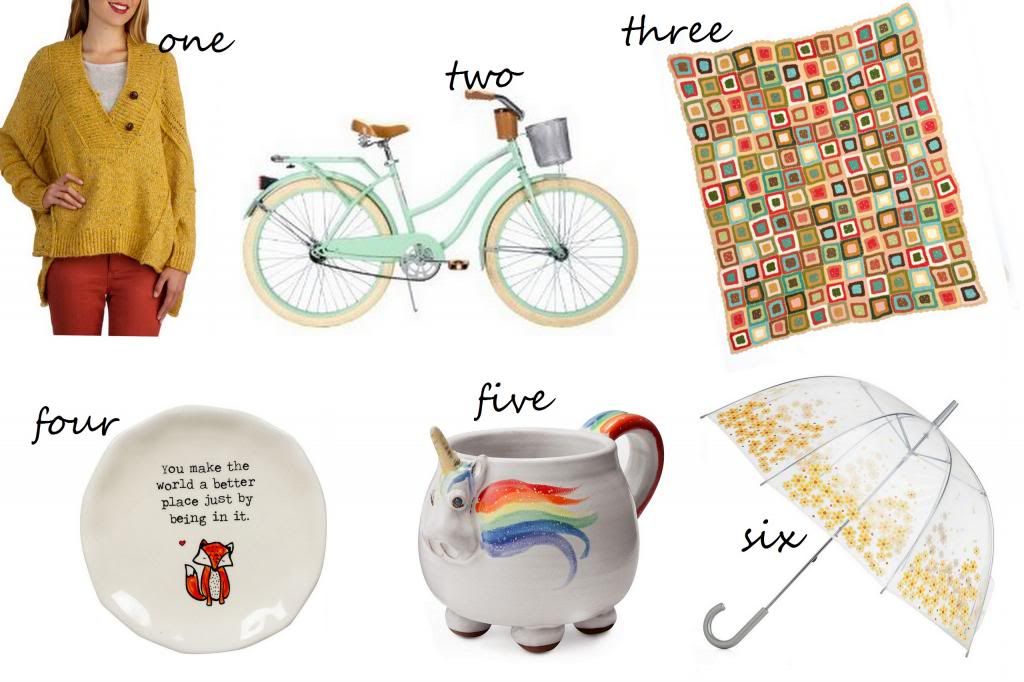 precious goldenrod sweater @ modcloth // huffy mint green cruiser @ amazon // flea market throw @ house 8810 // fox trinket dish @ paper source // unicorn mug @ uncommon goods // rainy daisy umbrella @ modcloth
I am really loving that cruiser right now. We just got Rory a bike so he can get to and from work conveniently on days that it's not so convenient for me to drive him. I definitely want to get a bike soon because the weather is perfect for bike riding right now. Perhaps Logan can ride in the basket like a little E.T., but not really.
I hope you have a great weekend! Do you have any plans?

xo
-Ali
*and as of last night, Logan is sick with a cold and my sinus pressure is worse. God help me*