When I was a few weeks pregnant with Logan, someone told me not to worry about buying maternity clothes because all I needed to do was buy size XL clothing and that would work throughout my pregnancy; boy, were they wrong! I think that trick only applies to women who are stick thin and that is definitely not me. I, of course, grew quickly out of my normal clothes and wore maternity wear throughout my entire pregnancy.. what I didn't expect was having to buy a new wardrobe for after pregnancy as well. My body is just not the same; I weigh less, am drowning in some of my old clothes and am just not comfortable in them anymore. All of my old tops are too short and I pretty much refuse to wear jeans these days. I have needed to buy some new essential pieces that I feel comfortable in, are easily washed, and hide all of that post baby belly fluff that won't go away. Along with some new comfy clothing, I've realized I need very little these days (only essential things) so I thought it'd be fun to share my every day items with you!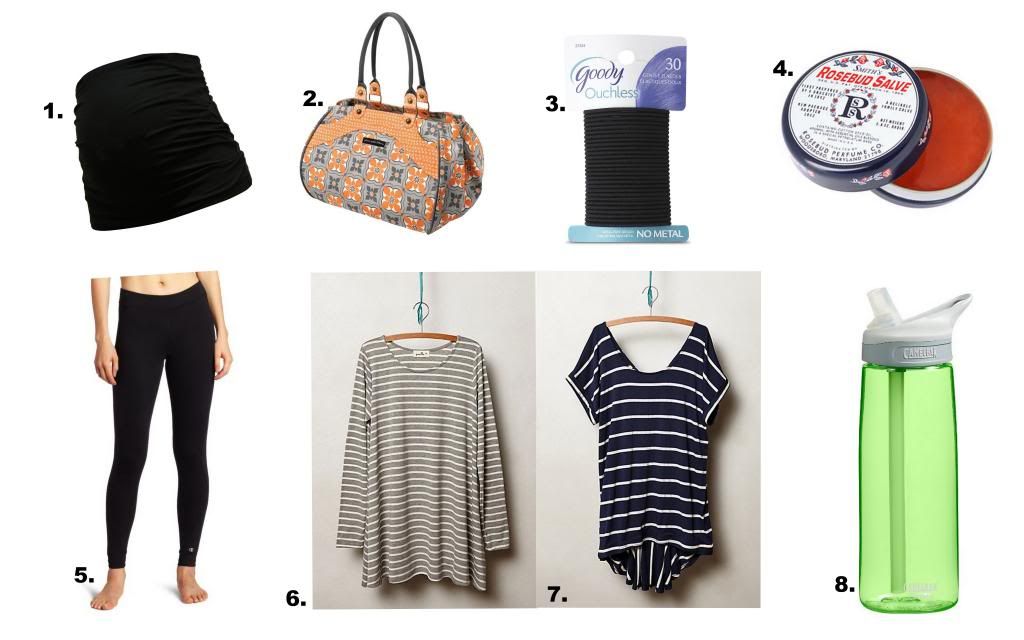 belly band This is an every day wear for me. Not only does it lengthen the look of my shirts (long torso problems), I feel like it keeps me sucked in a bit. I can look in the mirror and see I weigh less than before pregnancy, but I am still very self conscious about my stomach area. There's not much I can do about my stretched out belly without a million dollars for a personal trainer so this is the next best thing!


wistful weekender I use this as my diaper bag and though I am not carrying much for Logan or myself lately, I love how comfortable it is on my shoulder and I can pack all sorts of things in there if I need to.


pony tail holders
Every day I will straighten my hair.. give it a brush, but I am always wearing a pony tail holder on my wrist. No matter how fancy my hair looks, it never fails to end up in a ponytail or some messy knot on the top of my head.
rosebud salve I love love love this stuff! I have been using it as my "chap stick" for years. It keeps my lips soft, I can smear some on my fingers to keep them from getting chapped in the dry weather, I can put it on Logan if needed.. it's the greatest and it lasts forever!
champion workout leggings I'll be honest here... I hate jeans. I've always hated jeans. They stick to you in the heat, they're not as stretchy as I would like.. I have given up on real pants. I wear these workout leggings every day (I have four pairs) and they are so comfortable. My after baby body really likes how they keep all my bulge in control. I wear them to exercise and out and about with long tees.
Anthropologie shirts:
darcy swing tee & tail stripe tee I live in these shirts. I have two of the swing tees for cooler weather and wear the tail stripe tee on warmer days. I have been trying to buy better quality clothes that I know will last longer instead of buying cheap clothing that I'll have to constantly replace.These shirts are longer (a perfect wear with leggings), loose, and super comfortable; perfect!
travel water bottle I try not to leave the house without a bottle of water. Sometimes I have those days where Logan is napping and I realize I haven't eaten or had any water yet.. which is really terrible. Drinking water helps boost your metabolism and I am all for that! These travel bottles help with reminding me to drink all the water I need to in a day and they're easy to throw in my diaper bag.

What are some of your mama must haves?

xo
-Ali