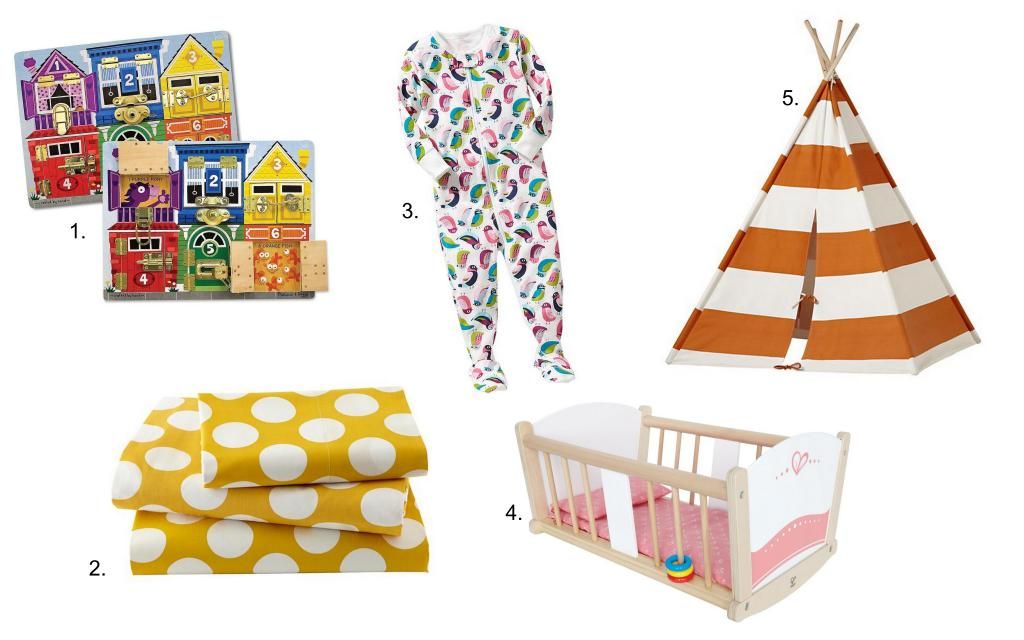 It's a little bit of a challenge having a little one whose birthday is exactly a month from Christmas; you really have to think about spacing out gifts and everything she needs I've already bought throughout the rest of the year. This is the first year I've struggled a bit with Logan's wishlist for her birthday and Christmas. I keep an active list for her on Amazon that I update every month or so and now that her birthday has passed, I don't have much on it for Christmas ideas. My mom even called me last night wondering why I had so little on her list and what could she get her for Christmas.
For all gift giving occasions, I still very much want to stick to the four gift rule (something you want, something you need, something to wear, and something to read).. this year I am switching it up a bit though because we need another book like we need a hole in the head. Logan's playroom and bedroom are filled with books.. a lot that she hasn't even looked at yet, so this year we are keeping books off of all our lists!

Today Logan told me she wants Santa to bring her a car and a snowman.. this is what I'm thinking for her as she already got a power wheels for her birthday, has plenty of toy cars, and has two Bumbles and two Frosty stuffed animals (and no.. no Olaf. Logan has no idea what "Frozen" is):

want:
1.
Melissa and Dough latches board
- Logan has always liked doing puzzles and I've wanted to get these for her for a while. I like that it's a different kind of puzzle to strengthen her fine motor skills.. Rory doesn't think I should encourage her to learn how to undo locks ;)
4.
Hape babydoll cradle
- this is what my mom ended up getting her after our phone conversation last night. Logan has a baby doll that she loves and she has been "putting her to sleep" a lot lately. We have a soft storage basket for all of her stuffed animals and she dumps them all out to use the basket as her babies bed.. she says "Shhh baby is sleeping." I thought she'd like to have an actual crib for her baby to rest in. Thanks mom!
5.
Teepee
- I kind of want to put this under the "need" category BUT since we already have a teepee, I guess I can't. You may remember that we built Logan a teepee this summer before we moved.. well, the teepee we made really was not meant to be moved. It definitely didn't hold up well and the PVC pipe we used does not stay put on our hardwood floors. We did try and get rubber feet for the pipes, but we could not find any that were wide enough. The teepee we currently have doesn't hold up well to play and I would love something that she can be wild in. Also, we're renters.. it's inevitable that we will move again eventually and our DIY teepee will not survive. Hoping Santa brings this one for Logan this year!
need:
2.
Yellow and white dot sheet set
- With the new baby coming in early June and now that Logan is two years old, it's time to start planning a transition to the big girl bed that my dad got her. The next several months will be spent making Logan a big girl room!
wear:
3.
Footed pajamas
- Logan's closet is stuffed with clothes that will get her well in to next summer so she really does not need any sort of clothing gift this Christmas. I did see a cute idea on Pinterest (of course) that was a Christmas Eve gift; everyone gets new pj's to sleep in that night and these cute Scandinavian print jammies from Old Navy would be perfect.
I'm sure I'll be scouring Amazon and other mama blogs for other ideas.. if you have any I'd love to see!

xo
-Ali