| | |
| --- | --- |
| | |
The weeks leading up to our anniversary, I had been scouring Groupon and Living Social for some kind of deal on a hotel for one night either in Santa Barbara or San Diego; we wanted to take the kids away for the weekend to celebrate. Unfortunately, hotel rates were absurd and we settled on a day trip to the Aquarium in Long Beach. We talked it up the morning of with Logan and she was so excited on the drive down. When we got there, she was not amused. Before we even walked in the door, Wesley spit up right in my freshly washed hair (moms, you get it right? Immediately stinky before the day even began). So in we walk, smelling like vomit, all of us sweating.. this is how we began. I did my best to shake off the acidy spit up smell that I wreaked of and the fact that every inch of me was dripping and overheated to encourage Logan to look at "all of the awesome ocean creatures" and she just wasn't in to it.

"Logan, look! Wow a seahorse!"
"Where mom? Oh. Put me down. I'm done. Let's do something else."

She did have a few moments of enjoyable time while at the "touch tank"; a shark even accidentally touched her and she didn't have a melt down. Unfortunately, mama cut the outside time at the touch tank short because I felt like I was going to pass out and die in the heat. We ventured back inside hoping that Logan would have a better time now that she had been having fun outside, but no. Some scuba divers were cleaning a tank that we walked through and she was horrified. There was a few minutes of hyperventilation and lots of stares from strangers which I felt super uncomfortable with because I wasn't quite sure if they were staring at her or me; sweating, hair a mess, face red, and smelling of puke. Needless to say, we were done. A quick walk through the gift shop where we bought nothing and out the door we went.

At least there was one smiling kid...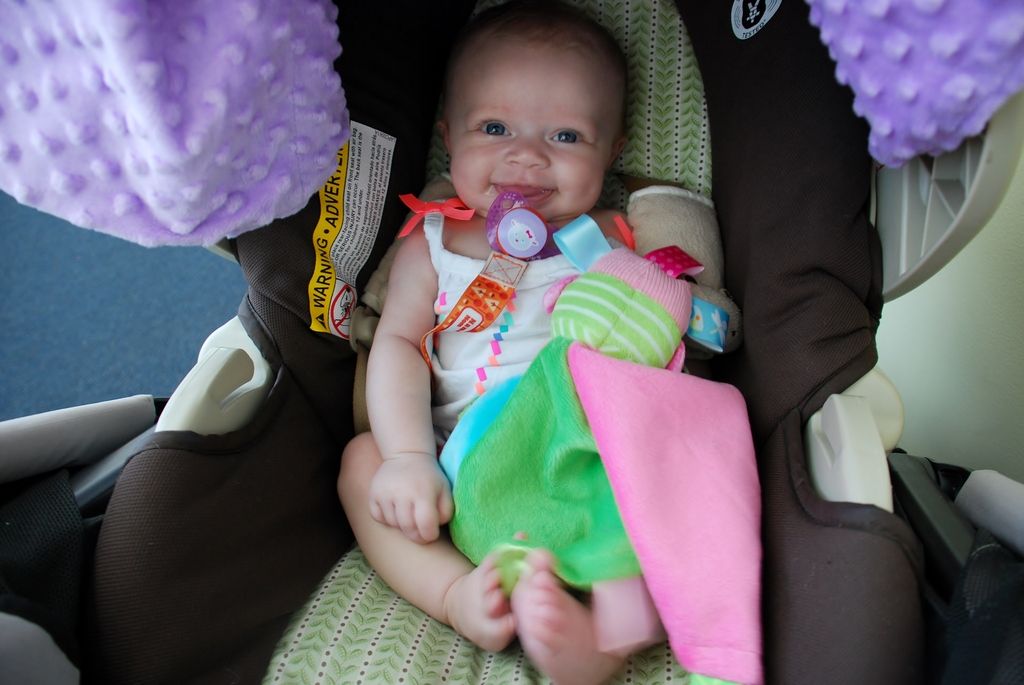 | | |
| --- | --- |
| | |
We darted out the door to a restaurant because we were all cranky and hungry.. Logan played with her food, the one thing I got at that particular restaurant wasn't on their menu; you know, continued chaos. After lunch, I again tried to shake off the crap shoot that had been our day and suggested we take a little stroll around the harbor... I lasted a few minutes before telling Rory we needed to get in our air conditioned car immediately.

Happy anniversary to us! Maybe next year we'll plan for something strictly indoors with no dark rooms or crowds.

xo
-Ali